For military devices used by the Ministry of Defence, it is geo-politically safer to have components manufactured in the UK, right down to the power source. As a UK battery designer and manufacturer, Accutronics are ideally placed to supply batteries for devices used by the armed forces, such as covert airfield-landing lights, oxygen concentrators, bomb disposal robotics and drones.
The Accupro custom battery design and manufacturing service can cater for the specific requirements of OEMs building such devices, in terms of performance, durability, size and weight.
Performance
Two varying aspects of battery power that make a tailored option well-suited are capacity and discharge, both of which can affect performance. In many military situations power failure could cause untold issues. For instance, if a reconnaissance drone does not have sufficient power to last for the duration of the flight it could be forced to make a crash landing. To maximise run-time the accumulator would need a high capacity and low self-discharge.
Covert airfield-landing lights could be impacted by time in another way, having to withstand long periods of dormancy, so would need a power solution with low self-discharge. Batteries that are housed inside medical devices, such as oxygen concentrators, require a long service life – the ability to be cycled hundreds of times. Accutronics have many years of experience in serving both medical and defence markets. Our custom-made batteries are built to consider factors that could affect performance to ensure they are fit-for-purpose.
Another factor that is assessed includes the environment in which the device will be used, as fields of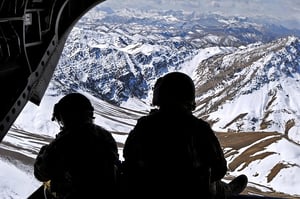 war may differ wildly depending on the climate. The accumulator characteristics should be able to cope in every environment it is intended for. Standard commercial Lithium batteries have a temperature range of -20°C to +60°C but G&D requirements are wider, typically -40°C to +80°C. Most Lithium-ion cells cannot meet this requirement; therefore, special cell selection is required to find cells that can power the mission.
Durability
Durability is another vital consideration for the army, which is why batteries should be tested in adherence to military specifications. Qualification can be arranged by Accutronics on behalf of our clients. Such tests help to ensure that when the military battery reaches the battlefield, for example in man portable communications, it can be safely used by soldiers on the frontline and withstand sudden movements, shocks or vibrations.
Size and Weight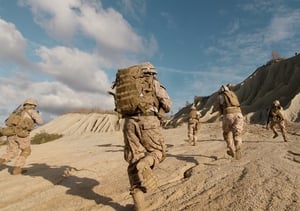 Further assisting soldiers is the evolution of smaller and lighter military batteries that can be used in portable devices. Soldiers can carry equipment weighing anywhere between 40kg and 80kg on deployment, so every weight reduction will aid their speed and performance. For example, portable communications devices use an abundance of primary batteries, so lightweight secondary batteries are being favoured by manufacturers.
Additionally, having the option to recharge batteries on-the-go using solar energy means fewer need to be carried. Our US parent company, Ultralife Corporation, currently offer the UBBL35 lightweight wearable battery that can be charged using a deployable 57-watt solar panel while in the field. As the UK is allied with the USA, there is no political conflict in the sourcing of components.
When considering portable power to be used by the UK armed forces, you can rely on a UK manufacturer to deliver a regulated custom solution that matches your reliability, durability, size and weight requirements.
To find out more about Accutronics' or Ultralife Corporation's products, please