Since April 2016, Lithium ion batteries which are offered for transport by air and which are packed by themselves (i.e. not contained in or packed with equipment) are required to be shipped at a state of charge (SoC) not exceeding 30% of their rated design capacity. Failure to comply with these regulations can lead to a fine or imprisonment.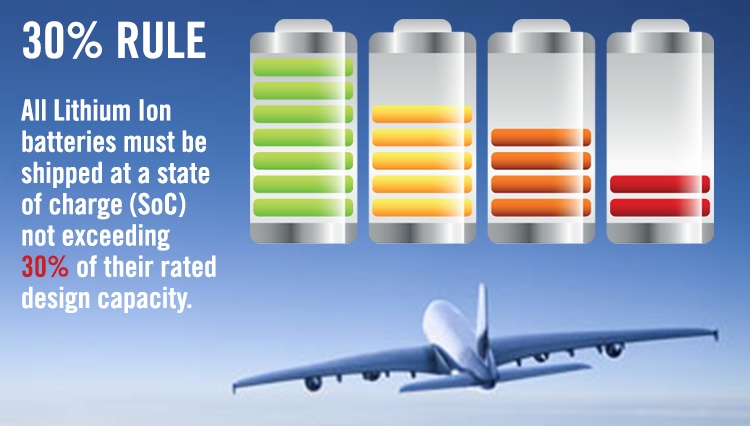 As a global battery manufacturer, Accutronics ships all of its Li-Ion batteries at or below 30% to enable our OEM customers to easily ship product to their customers without having to individually process each one or check its state of charge. As the sole distributor of the range of Inspired Energy batteries, chargers and accessories, we ensure all batteries from Inspired Energy meet this requirement.
But ask yourself this question: "What happens if I have charged a Lithium ion battery to more than 30% and I then need to transport it by air?"
Well if the battery is contained within equipment or packed with equipment then the ≤30% SoC limit does not apply – but if it is packed alone then the requirement of the regulations can be difficult to achieve. On the one hand you don't want to fully discharge it because the end customer will get an empty battery that won't immediately power their device; but on the other hand it's not practical to charge it and use a stop watch or smart battery reader to work out when to stop charging. You may be able to do this on one – but tens or hundreds? No!
For this reason, Inspired Energy have introduced a range of multi-bay calibrating chargers which have a 30% SoC function built-in. You simply place an Inspired Energy N-series Li-Ion battery into a spare bay and the unit will either charge or discharge it until 30% SoC is met. The unit also acts a calibrating charger - by simply pressing the button on front of each bay the unit will run the battery through an automated calibration routine which aligns the fuel gauge with the capability of the cells and leaves it fully charged and ready for use.
Inspired Energy offer 2-bay, 4-bay and 6-bay chargers with the 30% SoC function:
2-Bay CH5050CAL https://www.accutronics.co.uk/inspired_energy_chargers/ch5050cal.html
4-Bay CH5555CAL https://www.accutronics.co.uk/inspired_energy_chargers/ch5555cal.html
6-Bay CH6555CAL https://www.accutronics.co.uk/inspired_energy_chargers/ch6555cal.html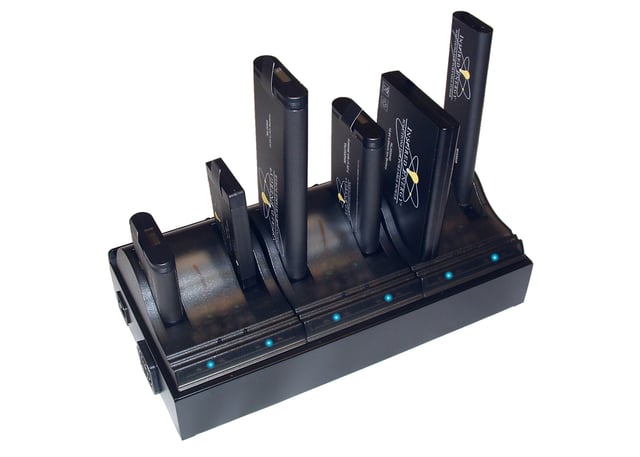 Inspired energy batteries, chargers and accessories are available from Accutronics in the UK. Visit www.accutronics.co.uk to find out more or contact us.