When we think of military technology, it is primarily weapons that come to mind. However, from 2017 to 2018, the UK MoD inventory consisted of over £53 million worth of medical, dental and veterinary equipment (an 11% increase on the previous year). There are many different types of battery powered technology that can assist military personnel in a medical capacity – on, above and outside the battlefield. All of these have different power requirements and getting the power right is essential when a soldier's livelihood, during or after service, relies on it.
On the Battlefield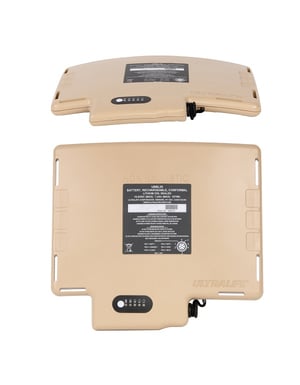 In the heart of a conflict zone, nothing is safe from attack, so batteries need to be as robust and reliable as the medical devices they power. This applies not only to the devices used to treat wounded soldiers but those that can help to detect an injury; such as a wearable device that relays vital statistics about a soldier's heart rate, blood pressure, stress and fatigue levels to clinicians in the base camp or back at home.
To ensure wearables are powered by a non-detectable, durable source; they often incorporate a soldier-worn battery like the UBBL35. In developing the UBBL35, Ultralife performed extensive tests to ensure its ruggedness, including a drop test from 26ft, a crush test using 12,000lbs of weight and a ballistics test of five bullets in eight minutes. After all of these tests were completed, the battery still had power capacity, providing the reassurance that it was battlefield ready.
Above the Battlefield
However, it is not just wearable devices on the ground that require a reliable, military standard battery. Military Medtech is about to take to new heights with the use of drones. Under current plans, not only will Army Doctors be able to use UAVs to deliver medical supplies; the U.S. military has asked for design proposals for a drone that could deliver blood to treat wounded troops on the spot. The design brief states that 'reliability and robustness to failure and interference' (and more) is essential, which will extend to all components, including the battery.
In addition to criteria stipulated for warfare, OEMs need to ensure the battery allows the drone to operate efficiently in the air (i.e. that it is lightweight to aid the UAV's airborne performance and has sufficient capacity to last for the duration of the flight). Choosing a custom battery solution is the ideal way to ensure that both the needs of the drone and the military are met. Both Accutronics Ltd and our parent company Ultralife Corporation have many years of experience in designing and manufacturing batteries for military prime contractors, sub-contractors and OEMs, qualifying them to the latest specifications.
Outside the Battlefield
Away from conflict, you may think that there is less requirement for durable batteries; yet new technology is emerging to treat soldiers at home that could need to withstand a human's body weight. To aid the treatment provided to ex-servicemen and women who have been injured; Adapttech have recently launched an addition to the prosthetics market (called tInterface), which uses battery power to identify problematic points in the residual limb that could affect the socket fitting. However, should the amputee fall whilst wearing the device, the battery could be compressed. Custom batteries can undergo a pressure test, as well as others that simulate potential scenarios that the battery could be faced with, ensuring they are fit-for-purpose.
Conclusion
Whether on, above or outside the battlefield; the batteries that power medical equipment need to be robust and reliable. Accutronics distribute, across the UK and Europe, the UBBL35 and more off-the-shelf products (manufactured by our parent company Ultralife) that are pre-certified to military specifications but can also offer custom solutions that are tested to ensure they meet the specific requirements of the application.