Today's battery powered robots have come a long way since William Grey Walter's first autonomous invention in 1948. Technology has evolved to the point that humans are now not afraid to have robots work alongside them on the factory floor (co-bots).
So how have we reached this point and what does the future hold?


A historical timeline of battery powered robotics
1948 William Grey Walter developed what are considered the first electronic autonomous robots called machina speculatrix, capable of finding their way to a recharging station when they ran low on battery power
1966 Shakey, powered by Truck battery, was introduced as the first mobile robot controlled by artificial intelligence
1988 The first HelpMate service robot began work at Danbury Hospital, powered by batteries that allowed 12 hours of continuous operation
2000 The UN estimated that there were 742,500 industrial robots in use worldwide; batteries are often used in industrial robotics to provide back-up power to retain critical configuration information
2002 Automated vacuum cleaner, Roomba, was launched and sold over 12 million units over 10 years
2005 The Korean Institute of Science and Technology (KIST), created HUBO, and claimed it to be the smartest mobile robot in the world
2014 hitchBOT, "hitchhiked" across Canada and Europe on a mission to explore cultural attitudes toward social robotics
2015 A trio of Nao humanoid robots demonstrated self-awareness in a 'wise-men' logic puzzle
2016 Amazon made its first drone delivery in the UK
2018 and Beyond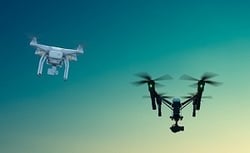 An increasing number of industries are investing in the development of battery powered robots. For example, in reaction to rapidly aging populations, $17.4bn is projected to be invested in personal care robots by 2020. Due to our growing reliance on drones for surveillance, photography and logistics, the market is expected to be worth $14bn by 2025.
Accutronics – Robot batteries present and future
With such a high level of commercial interest in robotics, OEMs will want to get products to market quickly. Battery manufacturer Accutronics Ltd and its parent company Ultralife Corporation can assist by offering a wide range of pre-engineered rechargeable batteries to provide portable or back-up power. This includes Lithium Iron Phosphate batteries (LiFePO4) that are suitable as a replacement for sealed lead acid and 2590 batteries qualified to military specifications.


These existing products were developed from extensive discussions with OEMs and offer high performance for the robots that are currently being manufactured. However, with so much advancement happening in industrial automation, battery manufacturers like Accutronics Ltd need to focus on the future. The best way to achieve this is by reaching out to robot designers and OEMs to learn the power requirements for their planned projects. As such, Accutronics is conducting a survey to identify these needs.
All participants in our research will be given the option to receive an anonymised copy of the results. In manufacturing, the need for secrecy is high, so we are offering non-disclosure agreements to anyone who participates.