Robot technologies are emerging that allow these amazing devices to impact our lives in ways we never thought possible. When you examine the market as a whole, you see that robots require a multitude of different battery solutions depending on their required task.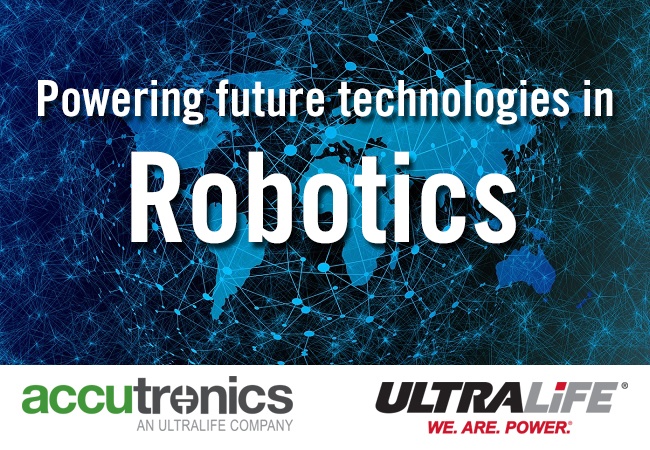 With a proven track record, developing batteries and chargers for both government and commercial markets, Accutronics and Ultralife products and technologies are the go-to solution for robots in numerous applications where high quality, innovative power solutions are required.
We have developed a range of technologies to address the full market, from small primary Lithium cells that provide memory backup in robot controllers to large rechargeable Lithium Iron Phosphate batteries that provide drive power to logistic bots. We have a wide range of primary and secondary smart batteries which are used extensively in ordnance disposal robots which are attractive propositions to OEMs in both medical and service robot sectors.
SO WHY WOULD YOU CHOOSE US FOR YOUR POWER SOLUTION?
We design and manufacture

a wide range of secondary (rechargeable) and primary (non-rechargeable) batteries -

catering for a wide range of robotic applications

Our

range of primary

Lithium Thionyl Chloride

and

Lithium Manganese dioxide

cells and batteries provide reliable, long-term power to robot control systems, ensuring that critical configuration information is retained if external power is lost - offering a service life between 5 and 10 years ensures seamless operation between major service cycles

Our

secondary (rechargeable) batteries range from small compact units for powering wireless handheld controllers to large multi-kilowatt systems for driving ROVs (remotely operated vehicles)
We also develop

custom battery and charger solutions

to match customer requirements and

work on a project managed basis, working alongside customers to provide a full solution from concept, development, tooling, certification and production

The inclusion of SMART CIRCUIT! electronics ensure our batteries remain safe under all operating conditions whilst providing a myriad of pertinent information such as cycle count, remaining run-time and remaining capacity
Safety is paramount - our batteries are rigorously tested for compliance against internationally agreed safety standards
Our customers can be assured of the highest level of quality
We operate three wholly owned, ISO9001 certified assembly facilities in the

US, UK and China
... whatever

you

need we can provide the solution, and an exceptional service, for

you

!
Accutronics Ltd and Ultralife Corporation are committed to developing battery and charger solutions that allow those developing robot technologies to meet their commercial objectives in this fast moving and dynamic market.
if you'd like to find out more please contact us to discuss your requirements or visit our website