Funding for the Department of Health has slowed by around 3% compared to historical trends. As a result, hospitals are likely to assess cost savings in their purchasing decisions, which will have a knock-on effect on the prices that medical device manufacturers (OEMs) are able to charge. Therefore, OEMs may consider reducing spending on parts such as the battery. Accutronics' range of Entellion pre-engineered batteries are an excellent low-cost option, as they have no tooling or qualification costs and are certified to comply with medical legislation. The range includes VR series, CMX series and credit card batteries.
VR Series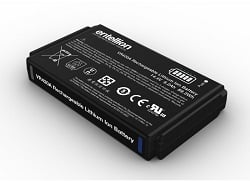 Life-saving equipment, such as ventilators, cannot afford to lose their battery power. Therefore, the Accutronics' VR series have a push button activated 5-bar LED visual state-of-charge indicator that allows the user to easily determine which are charged and discharged. To extend runtime the VR420 are 'hot swappable batteries' so when they reach a low state-of-charge they can be smoothly replaced with fully charged ones.
Vital Medtech can be power draining, so up to eight VR420's can be connected through the Intelligent Power Vault (IPV) to give a capacity of up to 714Wh – the perfect solution for medical workstations and carts.
CMX Series
Power draining devices can also benefit from the CMX820P Entellion battery, which offers 330W discharge capability. Should space be more of a consideration, both the CMX420M and CMX810M offer a high energy density. The CMX series also come in two high voltage outputs (14.4V or 28.8V) to reduce current consumption and allow medtech devices to be powered more efficiently.
Just as with the VR series, it is easy to distinguish the battery's state-of-charge using a 5-bar LCD indicator. However, CMX batteries can predict their capacity to within 1%; ideal when power failure is not an option. Further assuring OEMs, all of the CMX series are pre-qualified to meet safety standards (IEC 62133:2012, UL 62133 and CAN CSA E62133:13), allowing the device itself to be certified to UL/IEC 60601-1.
In addition to performance and safety advantages, the CMX series are also aesthetically aligned with the colour of most Medtech – 'traffic white' – case colour is one of the customisation options if you require a match to your end product.
Credit Card Batteries (CCB)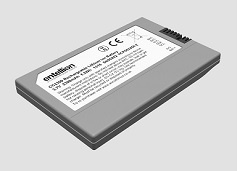 The design of medical devices is key, many are now being built smaller and lighter, as there is a growing requirement for wearable devices that can remotely monitor patient health. Credit Card Batteries are ideal due to their small footprint, for example, at 86.4mm x 54.0mm the CC2300 and CC3800 have exactly the same footprint as a regular credit card. Not only will their compact format allow them to be integrated into handheld and wearable medtech devices with minimal effort, but also the CC1150, CC2300 and CC3800 remain safe in all operating conditions due to their active electronic circuitry that protects against over-charge, over-discharge, over-current and short-circuit.
Should patient monitoring equipment lose power, false diagnosis could be made, so CCB's have a highly accurate impedance tracking fuel gauge that constantly tracks battery status, providing information such as remaining battery capacity (mAh), state-of-charge (%), run-time to empty (min), battery voltage (mV), and temperature (°C).
---
When it comes to sourcing an affordable battery which offers high performance and monitoring capability, Entellion products are the perfect solution. The entire range of off-the-shelf batteries come with Entellion branding as standard or can be easily customised to meet the specific needs of the OEM. Customisation options include product labelling, case colour and software set-up.
Designed to suit a wide range of medtech applications from wearable devices to ventilators, OEMs can get their product to market quickly. All Accutronics' batteries and chargers are designed and manufactured in our wholly owned facilities that are both ISO 9001 and ISO 13485 accredited, so OEMs can be assured of the highest level of quality
Not only are Entellion products cost effective, they're supreme quality and dependable for medical devices that rely on power to save lives.
To find out more, call Accutronics on +44 (0) 1782 566622 or e-mail sales@accutronics.co.uk