With so many readily available smart battery chargers in the marketplace, why should OEMs invest in a custom-made solution? There are many potential reasons from the design to safety and performance.

Design
Although looks cannot substitute safety and performance, they are certainly influential to end users in their purchasing decision. According to an infographic by Yellow Duck Marketing, 'more than 90 percent of consumers report that visual factors are the most important when buying a product' and this will extend to B2B transactions.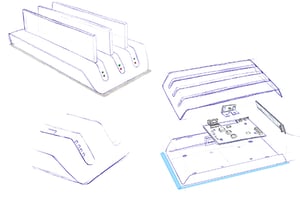 End users will be more attracted to your device if it has consistency in its outward appearance, down to individual components like the battery charger. Accutronics has an in-house mechanical design team who ensure that the charger design is in harmony with the rest of the device – 'talking the same language'. In addition to the physical look of the battery charger being customised; other practical elements can be too, such as weight and durability.
For instance, if the charger is being built for the military, not only would it need to be able to withstand significant levels of shock and vibration, but might also require significant protection from the ingress of water and dust. As a power source may not be readily available to operate the charger; bespoke military chargers can be configured to scavenge energy from wherever possible, including in vehicles like tanks or through renewable energy, such as solar or wind.
The environment in which a battery is to be used is highly influential in determining the type of charger that will be designed. For example, desktop chargers are often used in an office, hospital or industrial application, where batteries are removed from equipment for charging. For consumer or non-critical applications, embeddable chargers (PCB level solutions) can be integrated inside devices during manufacture, avoiding the need for battery replacement.
Safety
Design goes hand in hand with safety; as there are numerous features that can be integrated into the smart charger to ensure it charges the battery correctly. Accutronics has a team of Electrical Engineers who can discuss the optimum safety measures to integrate into a custom charger.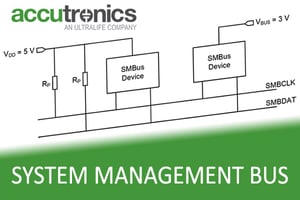 This includes selecting the best interface, with possible options being SMBus, I²C or HDQ. Utilising these, the smart charger can receive data from the battery as to its charging requirements and then respond by providing the voltage and current the battery needs to charge fully. This can be set to alter depending upon environmental conditions that might change the battery's requirements, such as a rise or fall in temperature.
To maximise safety, alarms can be integrated to alert the user if the battery experiences an unsafe condition and charging needs to be stopped; such as if the battery becomes too hot or starts to over-charge.
In addition to ensuring that the smart charger can charge the battery in the safest possible way, with a rise in the number of counterfeit batteries, it is also important to ensure that only genuine, certified batteries are being used or charged. For that reason, Accutronics use SHA-1 digital encryption and authentication between the battery and charger. Batteries that fail the authentication test are rejected by the charger and will not be charged.
Finally, certain life critical industries (such as medical and military) raise the bar in terms of safety requirements; stipulating regulations that ensure reliability, durability and performance. Accutronics can arrange for custom chargers to be certified to IEC, UL, UN / IATA and MIL standards to ensure that there are no delays in getting an end device to market on time.
Performance
Making sure the battery charger is safe and mechanically sound is essential, but the final piece of the puzzle is performance. There are a number of features that can be incorporated into a charger to ensure that it is easy-to-use and reliable.
For instance, a charger can be programmed to charge and discharge a battery to levels of charge required for long-term storage (usually around 40%) or shipment (30% according to regulations introduced in April 2016). An LED or LCD display can also be fitted to allow the charger to communicate state of health to the user, to help them make an informed decision as to whether they should use or replace their battery.
As well as giving customers the ability to accurately monitor the performance of the battery charger, going back to the earlier point about the charger being able to respond to charge requests made by the battery, not only does this have safety advantages but also means that the charger can be used with batteries of different voltages, capacities, chemistry or manufacturer. Accutronics customers have peace of mind that their smart charger will be compatible with existing and future ranges of batteries – meaning fewer chargers are required and last longer in the field.
Choosing a custom battery charger means that OEMs can get the design, safety and performance requirements they need. This not only reassures OEMs that the charger is fit-for-purpose but that it can operate reliably for many years to come.