Tripp Lite(1) and Ametek Powervar(2) inverters bring AC power to many existing Medical carts, which is why Ultralife Corporation has qualified its new smart U1 battery for use with them(3).
As a result, medical device OEMs that are considering lead acid replacement batteries for their devices can benefit from the latest lithium iron phosphate (LiFePO4) technology. Or, directly replace their existing LiFePO4 batteries(4) from Valence Technology (U1-12RT, U1-12RJ), Inventus Power (U1-40) or Power-Sonic (PSL-12450).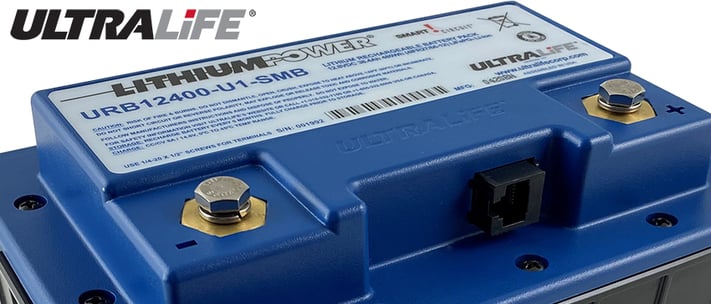 Benefits of LiFePO4 over SLA include significantly reduced weight with the same energy, they can be mounted in any direction and do not require charging in a vented area. LiFePO4 is also safer as it has a longer runtime per cycle and more cycles over life, thanks to a cell balancing system that ensures the internal battery cells operate in unison. Additionally, over 2,000 cycles are possible with our URB12400-U1-SMB making it longer-lasting, so providing substantial return on investment.
Manufactured in the USA at Ultralife's NY plant, stringent regulatory compliance is assured, as the facility holds both ISO9001 and ISO13485 registration. The URB12400-U1-SMB itself meets the requirements of ST/SG/AC.10.11 section 38.3 (transportation) and is certified to IEC 62133:2012 (safety); meaning it can be easily incorporated into medtech certified to IEC 60601-1.
Risk of damage is also reduced thanks to the battery's tough UL 94V-0 flame retardant polycarbonate case, which protects internal cells and electronics. Further internal protection is also offered to prevent against over-charge, over-discharge, over-current and over-temperature. The performance of the URB12400-U1-SMB can be monitored, as it can communicate to the host device via SMBus using Ultralife's SMART CIRCUIT™ electronics and RJ45 communication to provide information such as Runtime to Empty (minutes), Relative State of Charge (%) and Cycle Count (#).
These features have been informed by our many years of experience in designing and manufacturing batteries for the healthcare sector. As devices in this industry get smaller and lighter, a smart LiFePO4 battery is an excellent option over lead acid.
And now, integration into existing medical carts is effortless thanks to compatibility with Tripp Lite and Ametek Powervar Inverters; resulting in direct replacement capability for LiFePO4 batteries from Valence Technology, Inventus Power or Power-Sonic.
To find out more information please visit our website - Accutronics (Europe) or Ultralife (USA & RoW) or contact us for a quote.
Notes
(1) Tripp Lite: HC150SL, HCINT150SL, HC150ATD
(2) Ametek Powervar: ABCE150-11M2, ABCE150-22M2
(3) Some legacy medical inverter systems may require a firmware update to fully utilize battery fuel gauging.
(4) When used in other, non-medical inverter systems please contact Ultralife for compatibility advice.