In an emergency, search and rescue devices need to be put swiftly to use and cannot shutdown until the mission is complete. Therefore, the source of power should be a vital consideration for OEMs early in the product development or design process. Taking emergency beacons and drones as examples; here we consider how the functionality of these devices can dictate the battery design.
Emergency Beacons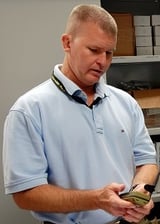 Emergency beacons may lie dormant for extended periods (such as when the weather prevents people from venturing into dangerous waters/environments) but then need to spring back to life quickly in an emergency. Therefore, the batteries used will need to have a low self-discharge to retain power during prolonged periods of inactivity. When in use, the power demands on beacons can vary depending upon whether they are ELT, EPIRB or PLB, as some will require more energy than others. Furthermore, some beacons offer advanced functionality such as GPS tracking that can be constantly draining power. A lithium-ion battery (li-ion battery) can prove an effective choice in such circumstances. Moreover, Li-ion can operate in temperatures as low as -40⁰C at a reduced discharge rate, which is another vital consideration for beacons used in oceans, as water can get notoriously cold. Size also matters, as small beacons can be stored inside lifejackets, making them easier to locate. Ultralife currently offer Thin Cells® with a thickness of 1.1mm that are perfectly suited for use in portable electronics.
Drones
During new product development, size is also a vital consideration for manufacturers of drones, which can be used for surveillance by search and rescue teams. Airborne vehicles cannot risk being weighed down by heavy batteries, so Ultralife offer a range of lightweight options that are well suited. Another risk is that the battery could lose power at sea, which would have costly consequences, so taking extra precautions at the design stage to make the correct power selection is a must.
When it comes to protecting people; batteries can provide invaluable power where it is needed most. For over 30 years, Ultralife Corporation has been overseeing battery development for use in critical situations, with products certified to high standards of efficiency. To find out more
Image of emergency beacon from U.S. Army Africa