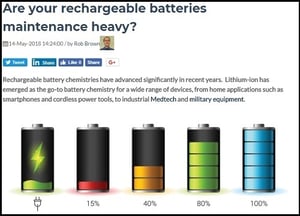 Last month in the blog we asked, 'Are your rechargeable batteries maintenance heavy?' – this month we look at ways to choose the optimum non-rechargeable (primary) batteries for applications as diverse as government & defense, home security, medical and IoT; as well as how to preserve their energy and extend shelf life.
Storage
One consideration that should be made before purchasing a primary is the maximum time that non-rechargeable batteries can be safely stored. Various factors can influence this, such as the type of sealing that is used, for instance, Hermetic glass-to-metal sealing allows for more effective electrolyte to be used which extends storage times. Ultralife's CR17335-10 battery is hermetically sealed and has a 10-year shelf-life.
It is this long shelf life which has resulted in the enduring popularity of primary batteries. However, to get the maximum service life from a non-rechargeable battery, they should be stored at the correct temperature, which varies from battery-to-battery. Many manufacturers – including Ultralife Corporation – publish this information on their websites.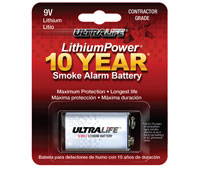 For instance, Ultralife's long-lasting Lithium 9V can be stored between -40 to 60°C but, to extend the service/shelf life up to 10-years, storage at less than 30°C is recommended. These batteries utilize technology from Ultralife's Thin Cell range for wearable devices. If stored at room temperature, Thin Cell batteries can retain >98% of their capacity after one-year of storage, meaning the energy is there when required.
Operating Temperature
In addition to storage temperature, operating temperature should also be assessed. A recent whitepaper showcased how Ultralife's thin cell batteries perform at high, room and low temperatures (compared to CR2025 coin cells from three tier one manufacturers). Ultralife thin cell provided the highest voltage and capacity in all tests.
When focusing on operating temperature, OEMs should bear in mind the environment in which their device will be used. For example, military personnel may be called for duty across the globe, Lithium Manganese Dioxide Cylindrical cells are an excellent choice, as they can operate in places as cold as -40°C up to those as warm as 72°C. Even more impressive are Ultralife hybrid cells that can operate from as low as -30°C up to 72°C.
Self-discharge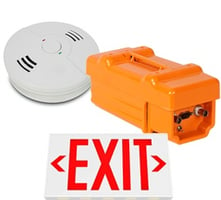 As well as focusing on the temperature at which the device will be stored and operate, the rate at which power will be drawn should be assessed. Non-rechargeable batteries are ideally suited for devices such as smoke detectors, security sensors and medical telemetry that draw power infrequently (where they are also more cost effective than secondary, rechargeable solutions). However, it is important to choose cell chemistry with a low rate of self-discharge for such applications, as this means that the battery performance is not reducing dramatically when not in use.
To address the self-discharge that can occur with Lithium-ion batteries (Li-ion); Ultralife developed hybrid batteries that boast a self-discharge rate of just 0.1% per year. A passivation reaction forces the electrodes to become insulators rather than conductors, allowing the electrolyte to form a thin, high resistance layer on the surface of the lithium anode.
Just as with storage considerations, the way the battery is sealed can impact it's self-discharge. The sealing of the CR17335-10 gives it a lower rate of self-discharge, making it ideal for beacons and emergency location transmitters, metering systems and sonobuoys.
Energy Density
Non-rechargeable batteries are also well-suited for inclusion in small and light IoT devices due to their high energy density. For example, Ultralife's Thin Cell range can be manufactured as thin as 1.2mm, which is compact enough to be incorporated into embedded and wearable devices. This is not at the expense of performance, as this pioneering technology can produce around 500Wh/l and 400Wh/Kg compared to just 300Wh/l and 260Wh/kg for the best lithium coin cells.
For the military, energy density is vitally important in reducing the weight that soldiers carry in the battlefield. To assist in this area, Ultralife developed the UB0032 LiCFx/MnO2 chemistry battery that has 307Wh/kg of energy density.
With so many factors to consider – such as storage, operating temperature, self-discharge and energy density – it can be difficult to choose the right battery for your application. However, Ultralife Corporation specifically designs primary batteries with the end user and product in mind, making selection and maintenance hassle-free.
To find out more about Ultralife non-rechargeable batteries contact us directly on +1 315 332 7100 or