Do you get frustrated that your non-rechargeable battery does not maintain the same level of energy and power for its entire life? Ultralife manufactures a range of products to tackle this requirement. With a range of products on offer, it is important to understand the differences between them to ensure you select the best battery for your needs; down to the chemistry. Ultralife utilize two leading Lithium chemistries – Lithium Thionyl Chloride and Lithium Manganese Dioxide – that are compared here.
Lithium Thionyl Chloride – Li/SOCl2
Where high voltage is required, Lithium Thionyl Chloride is generally the best choice at 3.6V or higher. Ultralife Li/SOCl2 batteries benefit from a passivation layer that allows them to be stored for longer periods with minimal loss in cell capacity. Some of the applications well-suited to this form of power are utility metering, radio communication and other military applications, alarms and security systems and IoT devices.
All of these applications need to have a reliable battery as power failure could result in data loss or put the device out of action, so choosing a battery that offers a high and stable operating voltage is advantageous.
Lithium Manganese Dioxide – LiMnO2
Whilst Li/SOCl2 batteries are ideal for remote metering, those utilizing LiMnO2 chemistry are perfect for applications where high currents are required after long periods of inactivity (for example, wearable devices, emergency location transmitters and smart home technology). This is because Lithium Manganese Dioxide cells offer a flat discharge curve, and a hermetically sealed nickel-plated steel container for long term shelf life. Ultralife manufacture both Thin Cell and CR123A battery ranges from this chemistry; both of which contain products that provide high power and energy throughout life.
An example of a Thin Cell battery that offers this is the CP502537, which measures in at 5.0mm thick, making it ideal for next-gen smaller and lighter devices, such as wearables. As data from smart technology is often relied upon to monitor vital health statistics, the CP502537 has a flat discharge curve and a low self-discharge rate (less than 2% after 1 year of storage at +20°C) that helps to prevent data loss.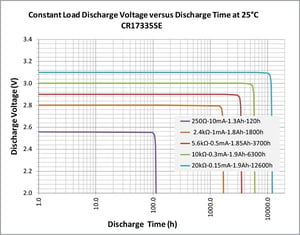 In the CR123A range, the only bobbin cell product (CR17335SE) is ideal for beacons and emergency location transmitters (ELTs). As these devices are often required at sea or in environments that experience extreme temperatures, the CR17335SE boasts hermetic glass-to-metal sealing that allows it to operate in climates as cold as -40°C. This sealing also allows the battery to be stored for longer, making it ideal for devices that may not be in regular use, like ELTs. To further cope with periods of inactivity, the battery has a high and flat voltage at high and low drain, ensuring consistent performance. Plus, with a high capacity of 1800mAh, this battery offers high energy for the whole life of the cell.
Visit our website to learn more about Ultralife Li/SOCl2 and LiMnO2 batteries: