When you've purchased Inspired Energy batteries it's important to be kept informed of the accessories available to get the most out of your investment so in this blog we're taking a look at one of the charging options.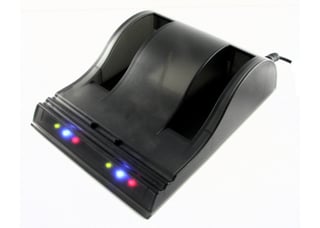 The Inspired Energy CH5050X is a desktop dual bay smart charger / calibrator which works with all Inspired Energy N-series smart batteries.
The CH5050X starts charging any compatible battery, either Nickel metal Hydride or Lithium ion Inspired Energy batteries, as soon as it's inserted. The smart charging technology employed by the CH5050X means that it is the battery which dictates its charging voltage / current requirements and the CH5050X responds accordingly until the battery signals that it is fully charged - this means that any Inspired Energy N-series smart battery can be charged regardless of its voltage, capacity or size.
The CH5050X can also operate as a battery calibrator which is activated by pressing a button on the front of the CH5050X battery bay. This feature allows the CH5050X to exercise the battery over a full charge and discharge cycle allowing the battery's internal fuel gauge to realign itself with the actual capabilities of the battery cells - clever stuff which can also prolong the life of your battery.
Occupying a footprint of just 180mm x 122mm the CH5050X is a compact solution which fits comfortably on a desk or bench and it is supplied with a 24VDC desktop power supply and full instructions.
The charger/calibrator is available to purchase on our website but don't forget to order your power cord as these are sold separately.
Alternatively if you'd like a quotation or have any questions please