In early 2016, UK-based professional battery manufacturer Accutronics was acquired for £7.5m by global battery and communications systems specialist Ultralife Corporation. Here, Michele Windsor, global marketing manager of Accutronics, discusses how the acquisition has benefited the company and its customers across Europe.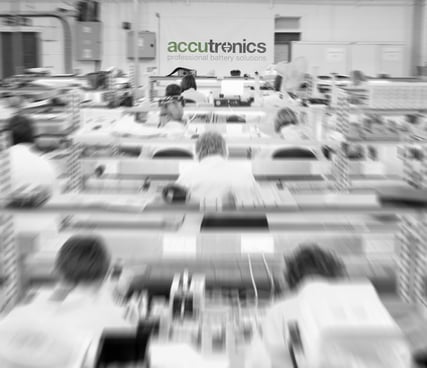 Innovation is the cornerstone of Accutronics. Whether we're developing new approaches to battery technology, such as algorithmic security for smart batteries, or delivering bespoke battery designs for our customers, innovation has always been the driving force for the business. However, as we all know, innovation often brings with it change.
Change has taken many different forms for Accutronics, growing from a small UK-centric company to one that exported across Europe and then expanded its operations to more than 30 countries worldwide. During this time, we diversified from applications in test and instrumentation as well as defence and security to deliver market leading battery innovation in the medical technology (MedTech) sector.
The purchase by Ultralife gives Accutronics new power with an expanded specialist product portfolio now available to us from the world's longest lasting 9 Volt battery to Lithium Iron Phosphate sealed lead acid (SLA) replacement batteries. Ultralife also brings an additional insight into markets such as government and defence, allowing us to better serve original equipment manufacturers (OEMs) across the globe.
For example, the acquisition gives us a significant leg up in accessing government and defence sectors across Europe due to Ultralife's specialist range of products designed and manufactured specifically for this industry. This means European OEMs can now benefit from a wider range of products from a single supplier to meet their needs.
Despite this enhanced reach, we are still dedicated to our existing customers in all sectors. In fact, the new resources available to us, such as extensive testing and cell-design facilities and an expanded technical team, allow us to provide even more bespoke and off-the-shelf battery solutions to our customers. This, in turn, enhances our ability to innovatively meet industry requirements.
In particular, our advanced cell-design facilities open up the most exciting prospects for our bespoke battery manufacturing service, Accupro. Selecting the right cell chemistry is a crucial part of ensuring optimum performance in a range of operating environments, so a wider choice of cells means we can continue to deliver the latest innovations to the market.
This puts Accutronics in good stead for the future as we have identified a number of industry-wide trends where we can benefit from Ultralife's enhanced reach. We are also able to keep ahead of the tightening lithium-ion battery transport regulations, as we can organise shipments and deliveries across the world by supplying OEMs from our facilities around the world, rather than from just Accutronics' base in the UK.
Accutronics' commitment to innovation is what has taken the company from a small business to one of the leading battery manufacturers in Europe. With the added strength of Ultralife, we can continue to innovate and provide OEMs with specialist batteries that meet and exceed industry expectations.