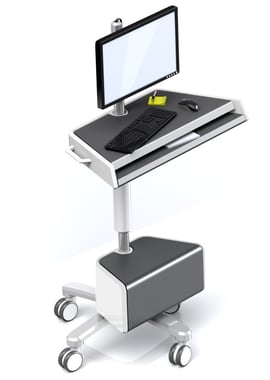 Computer and medical carts are increasingly used to reduce the need for paperwork in hospitals, warehouses, schools and more. This has resulted in many different types of cart. In hospitals and clinics alone, there are Emergency Carts, Anaesthesia Carts, Procedure Carts, Mobile Computing Carts, Medication Carts and more.
However, the main issue restricting their use is lack of space inside a facility or fixed equipment causing an obstruction (a survey conducted by Ergotron and HIMSS Analytics revealed).
Stemming from this, developments in battery technology are paving the way for smaller computer and medical carts.
LEAD ACID REPLACEMENT
When reducing the size of any product is a high priority (including portable carts), the energy density of the battery should be considered. Sealed lead acid (SLA) batteries have poor volumetric and gravimetric energy density, so many OEMs that previously used this chemistry are switching to Lithium Iron Phosphate (LiFePO4) alternatives like Ultralife's smart U1 battery (URB12400-U1-SMB). Its Gravimetric Energy Density of 91Wh/kg is up to three times greater than that of the average lead acid battery, which ranges between 30-50Wh/kg.
Yet reducing the size of the cart battery does not end with its energy density. Having the ability to integrate the power source in the most space efficient way is also beneficial. Unlike SLA batteries, the URB12400-U1-SMB can be mounted in any direction and does not require charging in a vented area.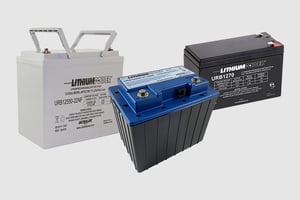 This makes it a truly 'fit and forget' proposition, as does the SMBus battery management system that allows the device to alert the user when it is time to replace or recharge the battery, without needing to check the battery itself. With LiFePO4 batteries in general, replacing the battery occurs significantly less frequently than with SLA, usually around 5 to 7 years compared with around 2 years, again allowing the battery to be housed in the most space saving way rather than the most easily accessible.
OEMs can also integrate the U1 seamlessly into medical carts, as the battery is compatible with inverters from Tripplite(1) and Ametek Powervar(2). As well aiding OEMs to make medical carts smaller, the U1 is also significantly lighter that SLA batteries with the same energy, aiding transportability for the end user.
Intelligent Power Vault
Another product available from Accutronics that is lighter than SLA is The Intelligent Power Vault (IPV) system, which houses and intelligently charges up to eight 'cartridge' batteries (versions accepting two, four and six are also available). Even with all eight VR420A batteries installed, the IPV weighs approximately 7.0Kg, which is still significantly less than the average lead acid battery.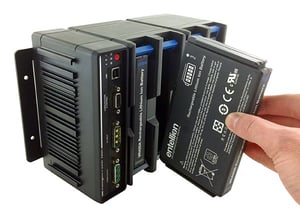 In addition to weight reduction advantages, the IPV boasts easier device integration than SLA. Once integrated, inserting and removing the batteries from the IPV has been made easy thanks to the 'cartridge' design of the VR420A Lithium-ion smart batteries, which means they can be quickly fitted and removed, allowing runtime to be extended. Not only does adding more batteries to the IPV extend runtime, it also increases energy. When all eight batteries are used, the IPV can store up to 714Wh, making it ideal for mission critical devices.
Where power failure is not an option, the IPV boasts in-built power management capabilities. The IPV allows its installed VR420A batteries to communicate with the smart charging circuitry and control module inside the Intelligent Power Vault, in order to request the required voltage and current whilst charging and provide runtime information throughout discharge, ensuring safe and efficient operation always.
When it comes to selecting the best medical or computer cart battery, feedback from the end user may dictate the requirement. For instance, the need for a smaller cart means a smaller battery must be used and Ultralife offers a range of LiFePO4 batteries which are lighter and do not have the same integration requirements as sealed lead acid, allowing them to be integrated in a way that saves space. Accutronics is an Ultralife company located in the UK, ideally placed for shipments across Europe. A UK battery manufacturer, Accutronics also has an off-the-shelf IPV power management solution available for computer and medical carts that is lighter and easier-to-integrate than SLA.
(1) Tripp Lite: HC150SL, HCINT150SL, HC150ATD
(2) Ametek Powervar: ABCE150-11M2, ABCE150-22M2