Thanks to the digital revolution, technology in both our personal and professional lives is getting smaller and more powerful. For instance, new smart watches have more computing power than the Apollo moon landing space craft! The same applies to medical equipment; hospitals are replacing bulky analogue machines with more svelte, powerful devices. However, the march of digital technology through healthcare facilities is bound by the existing infrastructure, which was developed for analogue solutions, creating unique challenges for battery equipment.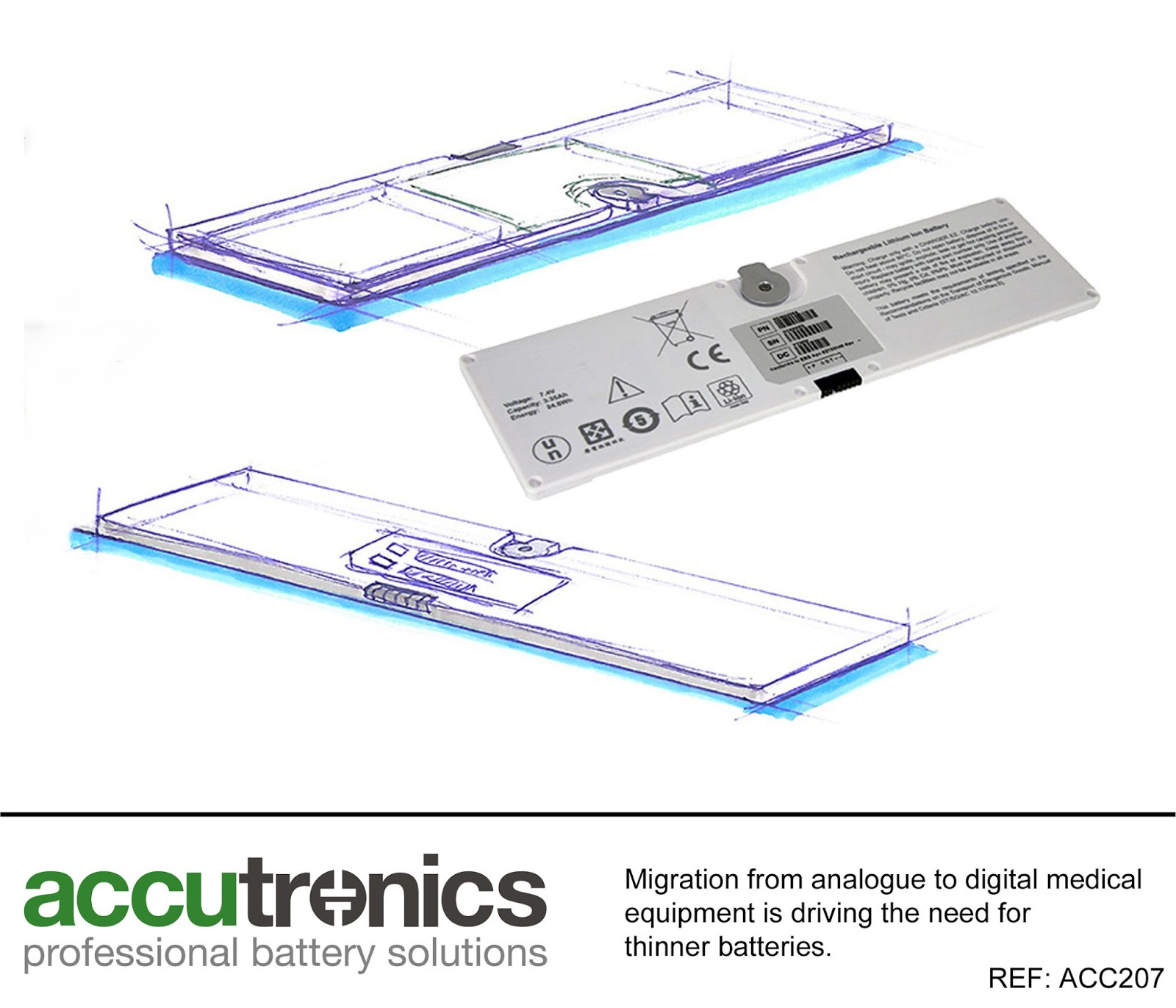 At Accutronics we're seeing an increase in demand from the medical sector for thinner batteries to be used in new or updated equipment. While advanced technology is a key driver for this, another reason is the fact that original equipment manufacturers (OEMs) have to design machines that fit into an analogue legacy system.

For instance, in new digital x-ray machines there is only 15mm of space for a battery – the space that was set aside for photographic slides in outdated apparatus. This is because hospitals need new devices to fit into the same space as the old ones. So, development of new technology is being shaped by the infrastructure that has been established for low-tech requirements.

In addition, hospital buildings themselves contribute to space saving needs. While there are modern hospital buildings in the UK, there are also those that were built as far back as the 1800s. Mobile devices and carts have to be designed with manoeuvrability around narrow corridors in mind. Therefore, the components inside modern devices are packed tightly together, leaving no room for large battery packs.

Retrofitting or retrospectively designing systems like this creates interesting challenges when it comes to providing a suitable battery to meet both size and power requirements. It's frustrating enough when your smartphone battery can't keep up with your usage, but in the healthcare field interrupted power supplies can cause serious problems.

This means that Accutronics often supplies batteries with very thin section walls, as little as 0.8mm, to allow as much space as possible for the cells. Currently, the size of a battery cell can't be reduced by all that much without losing power, so in very tight spaces you end up having to compromise the capacity of the battery by using fewer cells.

The key to success is for OEMs to consider the battery earlier in the design process. That's why Accutronics encourages early engagement for all of its clients. While our bespoke battery solutions can be tailored to almost any situation, the earlier in the design our teams can get involved, the easier it is to ensure optimum performance for requirements.

Accutronics works with its clients to create truly outstanding battery solutions, which provide tangible end user benefits such as low weight, minimal volume and ease of use. This is often achieved via our custom battery and charger design and manufacturing service, Accupro, which integrates seamlessly into OEM device development programmes. Some of our batteries even have more advanced control systems than the Apollo 11, which was about as complex as a modern toaster. It's just our way of staying ahead of the curve!