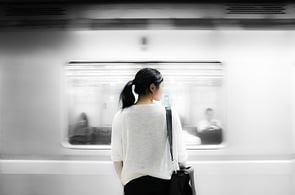 The movie Sliding Doors is over 20 years old. Yet it continues to resonate because it challenges us to think about the choices we make in life that come to define it. In the film, Helen Quilley's (Gwyneth Paltrow) destiny hinges on whether she catches a train (an iconic scene that's been re-created in TV shows like Broad City).
An example of a Sliding Doors moment had by one of the Accutronics team illustrated how design for medical devices can easily go in two very different directions.
Smart batteries for medical devices
Accutronics were asked to attend a supplier day by an OEM; which saw plastics, fan motherboard and smart battery providers come together with design engineers to discuss a new project. We call this type of gathering a precipice meeting as it allows you to work together as a team, standing on the edge of a precipice before a new project truly begins.
In the past these types of meetings were used by OEMs to select which suppliers they wanted for the project, with attendees vying to get the contract and purchasing teams endeavouring to choose their favoured ideas from the various propositions (often price being a major deciding factor).
Fortunately, today's precipice meetings are smarter and more inclusive, with suppliers of different components working together to form the best solution, putting less focus on the overall cost. This has led to the purchasing department establishing a stronger relationship with the designers; allowing for improved communication.
Communication is essential when projects involve life-critical applications, such as those in the medical and military industries for which Accutronics Ltd manufacture batteries.
Often these industries demand cutting-edge designs, whilst guaranteeing safety and reliability. Therefore, meetings to discuss best practise and potential pitfalls are vital.
Bringing together authorities on every component will lead to a more bespoke end solution that is well-suited to the intended purpose. As battery experts, we believe that OEMs should not be shackled by commodity batteries and relish the chance to align ourselves with creative manufacturers to deliver a new generation of medical device.
'The best way to find out if you can trust somebody is to trust them'


– Ernest Hemingway
For innovation to truly happen, there must be an element of trust between suppliers in sharing intellectual property. Failing to do so means that only the design engineer will come away with new ideas and not the individual manufacturers. When conducted properly, supplier day (precipice) meetings are true Sliding Doors moments, providing a platform to properly assess a design long before deciding how to manufacture it.
Surely Gwyneth Paltrow and the rest of the team behind the movie would approve.