If you have been putting up with batteries that need replacing, what better time to upgrade than the present? Upgrading means you could benefit from smaller, lighter products that comply with changes to legislation or military performance specifications. Ultralife utilizes the latest in battery chemistries including Lithium Iron Phosphate (LFP) and Lithium Ion (Li-ion) to deliver state-of-the-art solutions perfect for your needs.
Here we focus on three possible upgrade solutions but many more are available:
Lead Acid Replacement
Ultralife boast a range of Lithium Iron Phosphate (LFP/LiFePO4) batteries that customers typically use as replacements for Sealed Lead Acid (SLA) chemistry, as they are less bulky and heavy. They also have a greater cycle life; where an SLA battery would need replacing every six months to a year, LFP batteries can last for up to ten years in devices such as security and alarm panels. LFP also offers 40% more runtime than the SLA batteries used to power medical carts, robotics and similar devices.
An example of an LFP product from Ultralife is the 492Wh URB12400-U1-SMB that operates at a wider temperature range than SLA batteries, from -20⁰C to +60⁰C. Adding to the convenience, it can be charged using a regular SLA charger and cycled over 2,000 times. Furthermore, using smart technology, the battery can monitor its remaining capacity and alert the host device to stop charging, which increases the runtime per discharge cycle. Over-charging, over-discharging and short-circuiting can also be prevented using the embedded protection electronics.
9V Battery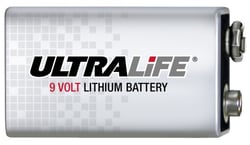 Some of you may still stock the original Ultralife Lithium 9V; bestsellers for us with over 100 million sold worldwide. Well, in 2012 a new version was launched, using the latest thin cell technology to create a smaller battery that is 12% lighter with 50% more energy than brand name competitors. Other features include shutdown separators that disable the battery should it overheat.
UBI-2590 8.7Ah High Capacity Smart 2590 Battery with SOCI and SMBus
As a proactive step towards staying in compliance with the new U.S. military performance specification (MIL-PRF-32383/3(CR)), our entire line of UBI-2590 batteries have been upgraded. Utilising SmartCircuit® technology to communicate with host and charge equipment, these batteries give accurate state-of-charge information. Housed in a rugged, military tough case; they can be used in extreme environments and come with a variety of charging options from in-vehicle to solar and desktop.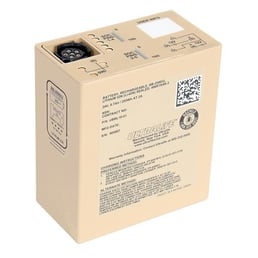 The upgrades come with a new case design, improved electronics and protection module, a more accurate state-of-charge technology than their legacy models, improved cold temperature discharge performance, widened charge temperature range and brand new labeling, complete with military mandated text and symbology. They're also certified to IEC 62133:2012 to meet international safety compliance. Also, recognizing the popularity of our UBI-2590 batteries with non-military customers, we've taken the exact same improved battery and released a commercially labeled version, designating it with the additional suffix, "-CB" for the purposes of quick international market delivery.
The label has been redesigned to be more marketable and meets numerous national marking requirements. These versions are also registered with various national agencies for regulatory compliance to facilitate importation into US and Canadian medical markets, as well as France, Switzerland, South Korea and Japan commercial markets.
Conclusion
When it comes to choosing a replacement battery or adding a battery to an existing piece of equipment, the options are endless and fully dependent on your requirements. Should you need to have a certified product, our website allows you to filter products by certification to make life easier. As the world evolves and devices are getting more lightweight, it may be necessary for you to streamline your battery, particularly replacing heavy Sealed Lead Acid with a lighter LFP version. Even our global bestselling 9V underwent improvements to make it satisfy this emerging need.
Spoilt for choice? Send us your list of requirements and our team will be able to advise you on the optimum battery for your application.
Call +1 (315) 332-7100 or