Mini battery for portable medical devices smaller than credit card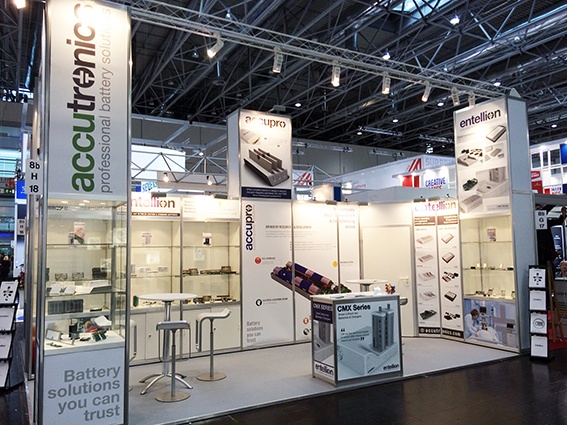 The doors have now opened at Compamed in Düsseldorf, Germany. Co-hosted with Medica, Compamed is the world's largest medical technology (MedTech) trade show which runs from November 16-19. This year Accutronics are exhibiting its smallest medical battery and charger the CC1150 mini credit card battery and CX3050 desktop charger. These small batteries target the growing demand for portable medical devices used in hospitals and in home healthcare and can be seen on stand H18 in Hall 8b.
The event will see 728 companies from 37 countries come together with over 17,000 trade visitors in medical technology sectors ranging from nanotechnology and test and instrumentation to certification and medical manufacturing.

The CC1150 mini credit card battery is a 3.7V, 1.15h (4.2Wh) Lithium-ion 2.0A battery measuring just 54mm square and 9.5mm high, occupying just half the footprint of a standard credit card.

Rare in batteries of this size, the CC1150 also features an active electronic protection system that prevents overcharge, over discharge and short circuit, crucial for hands-on environments such as hospitals. In addition, the built-in, high accuracy, impedance tracking, fuel gauge means the CC1150 can track battery status information including remaining capacity (mAh), remaining runtime, percentage charge, battery voltage (mV) and temperature.

"Even though medical devices are getting smaller, battery OEMs (Original Equipment Manufacturers) have been slow to provide devices that pack the same functionality into smaller form factors," explained Neil Oliver, technical marketing manager at Accutronics. "This is why we've developed the CC1150 mini credit card battery and CX3050 charger.

"OEMs can reduce their testing costs and improve return on investment by specifying these units. This range is fully tested to meet the international requirements of IEC62133 and UN38.3 and, because the battery is under 100Wh, further time and costs can be saved during transportation."

The CC1150 mini credit card battery is accompanied by the CX3050, a slimline desktop charger, which allows the battery to be charged separately from the device. "There is a trend among many medical OEMs to use embedded batteries," continued Oliver. "However, for medical devices, it's not always practical to take the entire device to a charging point. For these situations, simply swapping the empty battery for a fully charged one, allows devices to remain in continuous use - this is where our charger really comes into its own."

The CX3050 desktop charger is supplied with a 100-240VAC wall mounted power supply, charging the battery in just 2.5 hours. Built in LEDs indicate power, charging, fully charged and fault conditions. Furthermore, interchangeable AC blades mean the units can be used in the UK, Europe, North America, Australia and China. The CX3050 is also pre-qualified with certification for UL and IEC60950-1 as well as being CE marked. Customers can further customise the casing, labelling and packaging.

Come to meet us on our stand where you can also view many of our custom medical battery and charger solutions (Accupro) and other Entellion products and discuss your upcoming projects - Stand H18 in Hall 8b from 16-19 November.
Not going to Medica or Compamed but have a project your'd like to discuss?

You may also like to visit the Suppliers Forum in Hall 8b where Neil Oliver will be providing a presentation on 'The Lithium Ion Regulatory Maze' on Tuesday 17th November at 13:15 hrs - if you are unable to make it to the presentation you can still get our free Guide to IEC 62133:2012 (2nd Edition)