Robots for military, medical, surveillance and logistics purposes are all assisting humans by undertaking dangerous or monotonous tasks but can still have very different power needs, based on the legislations they are subject to and their reliance on battery power. Here we examine the vital functionalities of bomb disposal robots, drones, surgical robotics and logistics robots that can influence the power solutions they require.
Bomb Disposal Robots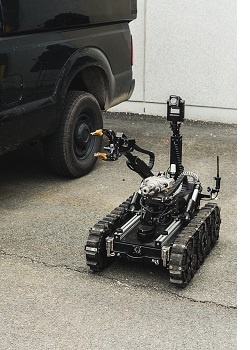 Robots used in bomb detection and defusal can vary dramatically from how they are controlled (VR or remote control) to the tools they are fitted with (manipulator arms, water disruptors, mine rollers and many more). The power demands on these robots will vary in accordance with the amount of technology used, so it is vital to consider battery chemistry early in the development process to reduce the likelihood of vehicle breakdowns or underperformance. It is also crucial to ensure that the battery complies with the latest military performance specifications to prevent delays in getting the product to market, such as MIL-PRF-32383/3(CR) in the US. Not only can Accutronics and parent company Ultralife provide military robot manufacturers with appropriately certified batteries, for instance the UBI-2590 MGPP line-up, but also bring many years' experience in the Defence and Security sector to the table.
Drones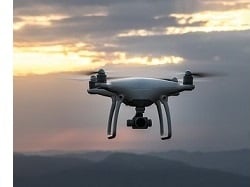 In addition to support from bomb disposal robots on the ground, the military use drones for air surveillance. Drones need small, lightweight batteries to stay airborne whilst having enough power to last for the duration of the flight.
As with bomb disposal robots, drones used by the military would also need to be compliant with government legislations to ensure reliability and safety.
Surgical Robotics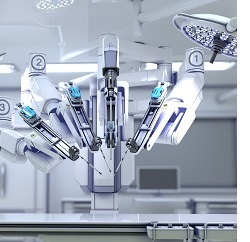 Another highly regulated industry is medical where robots are being used for surgical and recovery assistance purposes. Just as with military robotics, should a surgical robot's AC power fail during an operational procedure the circumstances could be tragic, so battery power needs to be readily available. With electronic protection and safety certification, our LiFePO4 batteries are ideal for use in such critical applications. Alternatively, CMX batteries have been designed with medical OEMs in mind and meet the requirements of IEC 62133 and UL 62133 for safety, as well as UN 38.3 for transportation.
Logistics Robots
Regardless of the industry, there is no escaping legislation. Logistics workers are heavily safeguarded by health and safety laws but still 'an estimated 137.3 million working days were lost due to sickness or injury in the UK in 2016'. Therefore, it is little surprise that organisations are turning to robotics to undertake the more strenuous and repetitive tasks that need to be performed in a warehouse. In fact, this year it is estimated that '45% of the 200 leading global ecommerce and omni-channel commerce companies will deploy robotics systems in their order fulfilment warehousing and delivery operations'.
Little surprise considering some robots currently on the market can transport loads weighing up to 500kg, so health and safety risks to humans are far less. To transport such heavy loads, the batteries used to power logistics robots need to be rugged and tough. Those that are required to put in a full working day also need to relay accurate state-of-charge information regularly to ensure they have sufficient power to complete their hours without breaking down. In China, Little Orange Robots are working nine to five without taking a break, sorting a staggering 20,000 parcels an hour.
In surgical robotics, bomb disposal robots, drones and logistics robots; battery power is essential. Not only can batteries allow robots to roam free from AC supply but also provide emergency back-up power. Such power needs to be reliably available, so speaking to a professional battery manufacturer is invaluable.